Valérie Raffin proposes a solidarity and responsible tourism.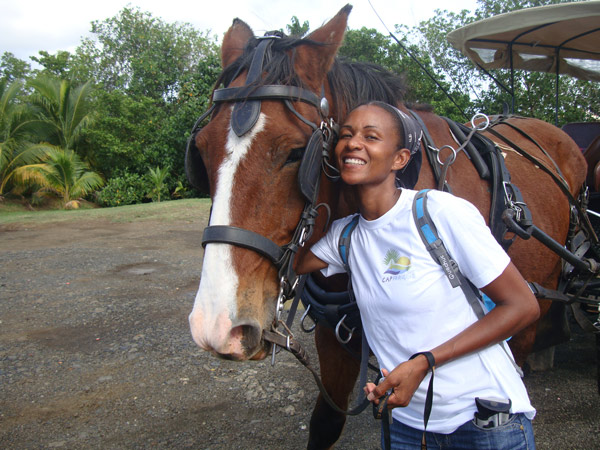 Valérie Raffin, a 41 year old young woman with a passion for sport, hiking and travel, has taken up the challenge of making an active contribution to the development of tourist, economic and cultural activity in the commune of Le François. The association she has been chairing for the past few months involves various sectors highlighting the assets of this charming commune in the North Atlantic.
A vast and dynamic project
A former sales director at Orange Business Service, Valérie moved to a completely different field in 2009, one that is just as demanding in terms of rigor, perseverance and challenge! And it is in tourism and seasonal bungalow rental that the telecom engineer (Bac+6) is now working.
At the origin of this concept, a common idea with Chantal... both supported by a reflection on the means to inform tourists and meet their needs for activities, leisure, escapes... Commitments that will promote the quality of the reception and supervision of visitors during their stay. After consultation with other Franciscan actors, membership is immediate, hence the birth of CAP FRANCOIS on May 14, 2013. Based on collaboration and exchange, the objective of the association is to propose an alternative to a tourist office, through an independent and original approach. It is a network where the principles of solidarity, originality and respect are de rigueur.
The beginnings are tangible
Through its dynamism, CAP FRANCOIS is undeniably part of a vast project of which. To date, it has about twenty members who participate in the elaboration and implementation of local tourism development programs. It coordinates the interventions of the various partners in various sectors such as accommodation, heritage, leisure and well-being activities, gardening and agri-tourism, catering and transport. Their first official outing took place on 20 December as part of the "Christmas in the city" operation co-organised with the municipality of Le François and the homes with a view to highlighting the skills of the craftsmen. Valérie Raffin intends to expand her activity by setting up a partnership with the tourist offices of neighbouring municipalities. The search for sponsors and the creation of a discussion forum on the theme of "trades" are among the priorities in the short and medium term. It seems that all the members of the Cap François association are all involved in the perpetuation of this project in its multiple aspects and that we will henceforth hear more and more about Tourism at the François.