An exhibition not to be missed under any circumstances at the Fondation Clément, at Le François.
Three expressions to say no to misery, injustice and exploitation of man by man.

Césaire, Lam and Picasso: a synergy of creations .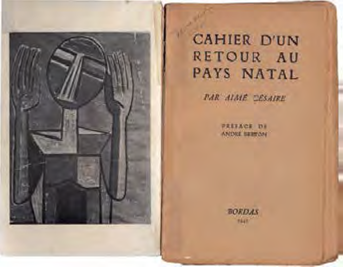 Cover of the Cahier d'un retour au pays natal, 1947, Bordas
In frontispiece, the reproduction of the painting
that Lam offered to his friend Césaire.
 As part of the celebration of the centenary of Aimé Césaire, the Habitation Clément hosted the opening of the exhibition "Aimé Césaire, Lam and Picasso: we found each other" on Saturday, December 7. There were a plethora of guests in the Foundation's spaces, Serge Letchimy, President of the Region, Maurice Antiste, Senator-Mayor of François, Victorin Lurel, Minister of Overseas France and Laurent Prévost, Prefect of the Region.  During his speech, Bernard Hayot, President of the Foundation, welcomed the presence of Jacques Césaire, son of Aimé Césaire and one of Wilfredo Lam's sons.  

Encounters that changed the face of history
Daniel Maximim, writer and general commissioner of the organization, recalled the facts that led to the meeting of the three fundamental men. In 1941, while Nazism was spreading in Europe, some people tried to return to America by sea. By chance, the ship landed in Martinique with eminent figures of the time, including the writer André Breton, the anthropologist Claude Lévis-Strauss and Wilfredo Lam?   This starting point was followed by a long series of friendships, reflections and cultural and political achievements... " We are among those who say no to the shadows, the world needs us too and we will make the world a new light" is the sentence that can be read at the entrance of this exhibition.  And one will understand that through all the wounds and pains shared with Picasso and Lam, the need for hope and struggle will emerge.  When Picasso met Césaire, the writer's determined poetic commitment was a source of inspiration, hence Picasso's illustrations.    Aimé Césaire's poems composed for Lam and Picasso's drawings to illustrate the collection "corps perdu", revealed the deep meaning of these encounters. These great men have, through creation, art, poetry, storytelling, music and dance proved to the world our humanity.   Moreover, according to Daniel Maximin, "Chance only favours the prepared ones".

Between Césaire and Picasso
" Aimé Césaire (1913-2008) and Pablo Picasso (1881-1973) met for the first time
in 1948 on the occasion of the Peace Congress in Wroclaw (Poland). In 1950, the collection Corps perdu, consisting of ten poems by Césaire illustrated with thirty-two engravings by Picasso, was published.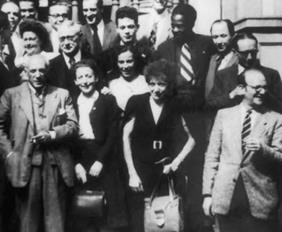 Picasso and Césaire photographed in Wroclaw in 1948, © Archives SDO Wifredo Lam

Between Picasso and Lam
" When Wifredo Lam left Spain in 1938, he was welcomed in Paris by Pablo Picasso
who introduced him to Mirò, Breton, Eluard, Zervos, Kahnweiler, Pierre Loeb... It is a fruitful meeting between the two men, which is also linked by a common language, which will also make Picasso say to him "Lam, I believe that you have my blood in you, you must be one of my parents, a primo, a cousin".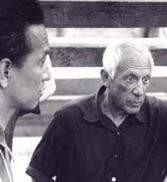 1954, Picasso and Lam a Vallauris,© Archives SDO Wifredo Lam.<On March 25, 1941, Wifredo Lam (1902-1982), a refugee in Marseilles, left France for America thanks to the Emergency Rescue Committee, in the company of many intellectuals and artists fleeing Nazism, including André Breton, Claude Lévi-Strauss, Anna Seghers and Victor Serge. When the ship calls at Martinique, the French authorities, loyal to the Vichy regime, arrest the passengers who will stay on the island for a month. Initially confined to residence in Trois-Ilets, they were then able to go to Fort-de-France where André Breton discovered the magazine Tropiques and met its founders Suzanne and Aimé Césaire. Reading the Cahier d'un retour au pays natal, published in 1939, was a shock for Breton; he described it as "the greatest lyrical monument of the time" and shared his enthusiasm with Lam, who would forge a creative and unfailing friendship with Césaire. Lam returns to Cuba, his native island, which he left in 1923. Inspired by his encounter with Césaire and the discovery of the Martinique forest of Absalon, he painted The Jungle in 1943, a major work preserved at WOAgri in New York. Around 1981, when Lam, very weakened, could no longer paint, he asked Césaire to resume the Annunciation project, a dozen large-format etchings, for each of which he suggested that he compose a poem. In 1982 the etchings were published in Italy. The same year, Césaire's poems inspired by these etchings were published by the Seuil publishing house at the end of the collection Moi, Laminaire ".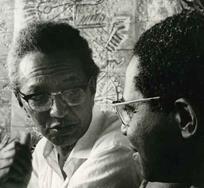 Wifredo Lam and Aimé Césaire at the Cultural Congress in Havana, 1968
Photo archives SDO Wifredo Lam.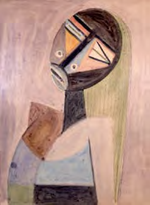 Wifredo Lam - Madame Lumumba1938,
Gouache on paper, 64.5 x 49.5 cm
Conseil général de la Martinique,
don of Françoise Thésée ADAGP, Paris 2013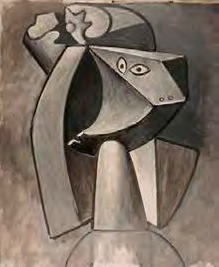 Picasso Pablo - Head with headdress
17 April 1947, Oil on Canvas, 73 x 60 cm
(unframed)
Picasso Estate 2013
Some kind of human cathedral
 
Since December 8, at the Clement home, families, schoolchildren, friends, intellectuals ... honor this appointment with these men carriers of vitality whose meeting has changed the face of history. The fruits of artistic cohesion, combining demands and beauty, are irresistible!  Between emotions and escapes, the visitor discovers rare and precious pieces by Picasso, paintings and a large number of drawings by Lam, the collection Corps perdu consisting of ten poems written by Césaire and illustrated with engravings by Picasso, the work "Annunciation" composed of engravings by Lam and poems by Césaire, the manuscript of the "Cahier d'un retour au pays natal", as well as a section evoking the common interest of Césaire, Lam, and Picasso in African masks. A beautiful synergy of the symbols of writing, creation and poetics in an ideally chosen artistic and symbolic universe, like a beautiful intellectual architecture, a kind of human cathedral dedicated to politics. In addition to his universal thought, Césaire had this concern for meeting, gathering and union, demanding ever higher standards, aiming at more human dignity.  Serge Letchimy recalled the common and collective obligation to propel culture upwards. It is by chance that the opening of the exhibition on 7 December coincides with the funeral of a loved one of Césaire's: Doctor Pierre Aliker.  The same doctor who had been captivated by the extraordinary creative capacities of these three monuments.

In the shadow of the Courbaril, this original exhibition runs until 16 February 2014 at the Fondation Clément.
Fr.N